Expedite cleaning, peening, deburring, profiling, finishing and many other surface conditioning tasks!
Gibson's new TB120 Table Blast System takes the operator out of the blast room. The system features a 120" diameter, 10,000 lb. capacity manganese steel turntable, a ¼" thick steel front swing door, and two 15" diameter 20 HP Direct Drive Blast Wheels. Once more, the TB120 is designed with a v-notched top for center crane loading and unloading. Operational parameters are imputed via a 4" Touchscreen HMI located on the electrical control panel.
Gibson's TB120 offers high versatility and efficiency in processing complex workpieces from large parts to heavy fabrications. The two blast wheels propel abrasive by centrifugal force through a controlled blast pattern. Moreover, the 120" diameter turntable rotates at 5 rpm to provide 360-degree exposure to the blast stream. A Mechanical Reclaim System recovers spent media using a Bucket Elevator and a 20" Gravity Lip Separator to remove fines.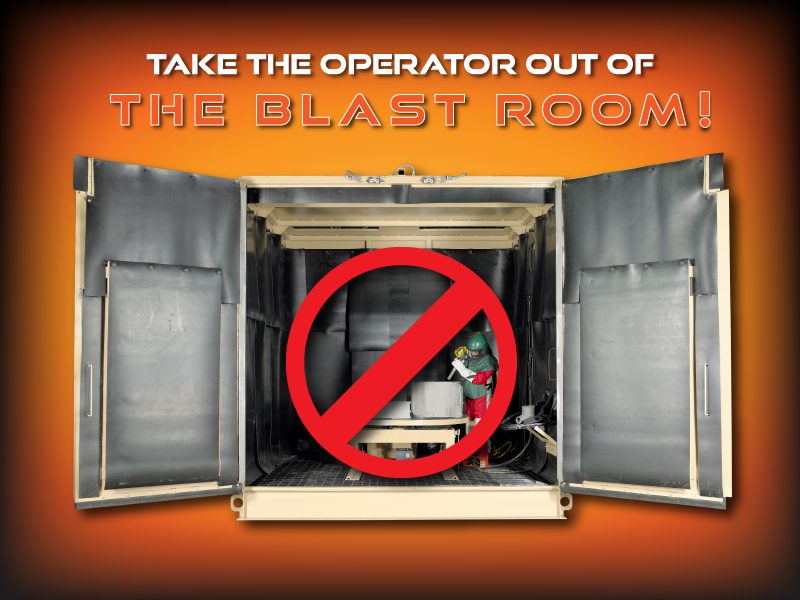 Compared to manual blasting operations in abrasive blast rooms, the TB120 processes workpieces in an enclosed system without the need for an operator to don a blast suit, thus contributing to lower labor costs and increased finish consistency. For instance, one 20 HP blast wheel can throw 525 lbs. per minute equal to nearly seven 1/2" direct pressure nozzles at 90 psi.
Check out the TB120 Table Blast System overview video below!