Wheel or Air Blasting Stainless Fabrications?
Most stainless blast applications are done utilizing air blast delivery methods. Air blast could require an operator reaching into a blast cabinet or operating inside a blast room. The use of stainless shot or grit in a wheel blast system drastically cuts down on blast time, involvement from an operator, and overall operating costs.
Table Blast Systems efficiently blast heavy fabrications removing weld discoloration, leaving a clean and smooth surface.
---
Major Differences Between the Two Blast Delivery Systems:
Wheel Blasting Operating Principles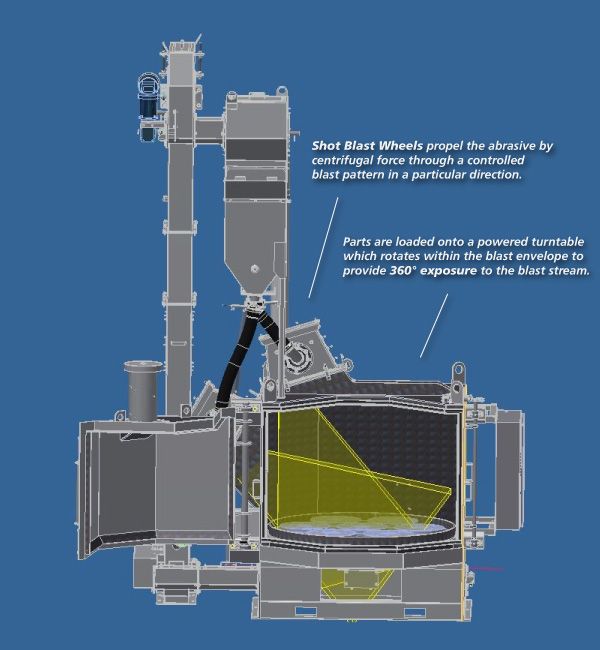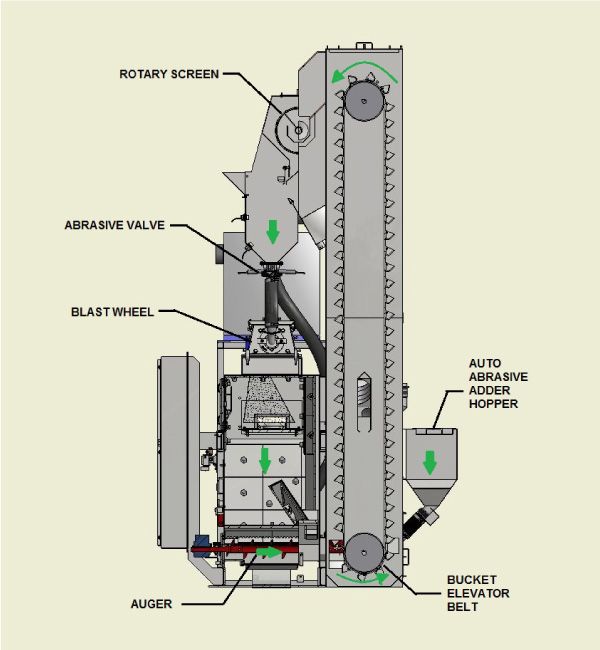 Abrasive Flow of 2,100 pounds per minute requires:
One Operator
(4) Blast Wheels @ 20 horsepower each
Compressed air consumption 5.0 SCFM
Compressor power 60 KW
80 horsepower
Advantages:
Velocity of shot easily controlled through wheel speed.
High flow rate of abrasive will provide high production.
Economical – one 20 hp wheel can throw 525 lbs per minute equal to nearly seven 1/2" nozzles at direct pressure at 90 psi.
Does not require very much compressed air.
Low labor costs.
Higher production rates.
Complete coverage.
Disadvantages:
Can damage delicate or thin parts.
Not good for localized peening.
Greater abrasive consumption.
Can't be used with aluminum oxide or glass bead.
Gibson 6BB Tumble Blast System – Fabricated Flanges – Blast Cleaning Wheel Blast
Gibson 36″ Power Table Blast System – Processing Stainless Fabrications
---
Air-Blasting Operating Principles
Blast media is pressurized in a blast tank or suctioned and propelled through a nozzle or multiple nozzles.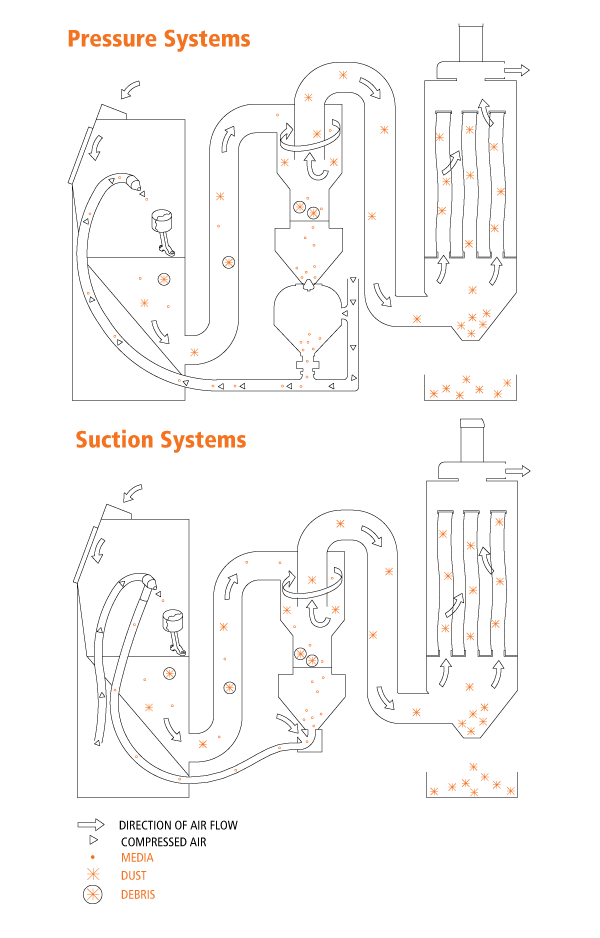 Abrasive Flow of 2,100 pounds per minute requires:
(27) Operators
(27) ½" Nozzles @ 90 PSI
Compressed air consumption 8,370 SCFM
Compressor power 1400 KW
1,876 Horsepower
Advantages:
Great for localized peening or cleaning.
Typically does not damage delicate or thin parts using the right media.
Can be used with aluminum oxide & Glass Bead.
Disadvantages:
Requires a lot of compressed air.
High labor costs.
Smaller blast pattern.
Low production rates.
Low abrasive flow rates.
Interested in making the switch? Contact Gibson Abrasive Equipment today and test parts in the process development lab.