On October 1st 2012 Charles and Gaylan Gibson retired and sold Gibson Parts & Equipment to Empire Abrasive Equipment Company in Langhorne, PA. The name of the company changed to Gibson Abrasive Equipment Company LLC. For over fifteen years, Gibson has been a trusted partner in the wheel blast equipment industry.
The acquisition gives both companies access to a wide range of blasting solutions. Gibson has gone beyond direct replacement parts and is able to focus on new equipment manufacturing and tapping into a larger distributor network. Gibson is now a well known OEM focused on wheel blasting equipment and the product line fits well with Empire's portfolio.
Gibson Abrasive Equipment launched a new website to showcase the focus on the new equipment technology and solutions that the company manufactures.
www.gibson-equipment.com
Gibson Abrasive Equipment categories range from:
Tumble Blasters -Gibson Tumble Blasters process multiple parts, ranging in size from small to medium, with a level of speed and efficiency unmatched by other types of equipment in a comparable price range.
Table Blasters – Gibson Table Blasters process parts weighing up to 10,000 pounds with diameters up to eight feet and heights exceeding five feet. Featuring eleven standard models, Gibson's line of Table Blasters provides the versatility and flexibility to efficiently blast parts ranging from ten-pound gears to heavy fabrications.
Hanger Blast Systems -Gibson spinner hanger blasting systems provide a cost-effective solution to batch cleaning. They are designed and built for ease of use and efficiency and utilize single & Y-Track monorails as well as pneumatic part positioners.
Dual Chamber Spinner Hangers -Gibson Spinner Hangers provide an ideal solution for batch blasting many types of parts too fragile or awkward for other methods of automated finishing. This solution allows an operator to load/unload parts while the other side is blasting parts.
Hanger Table Blast – Gibson spinner hanger table blasting systems provide a cost-effective solution to batch cleaning. They are designed allow both part hanging and table blasting all in one unit.
Wire Mesh Belt Blasters – Gibson wire mesh belt blasters are designed to utilize a flow through cleaning system which is much faster than batch cleaning and is much less labor intensive. Customers often use robots for loading/unloading diecastings etc.
Cylinder Blasters – Gibson Cylinder blasters are designed to be and efficient way to blast gas, oxygen, and chlorine type cylinders. They are designed to last much longer than the competition.
Dust Collectors – From 500cfm and beyond

Along with new equipment production, the company maintains a robust replacement part program and inventory to supply original wheel blast parts for all Gibson product lines, as well as a selection of high wear parts for non-Gibson wheelblast equipment.
Typical parts include:
•    Blades/vanes
•    Control cages
•    Impellers
•    Tune up kits
•    Wheel hubs
•    Feed spouts
•    Wheel housing and liners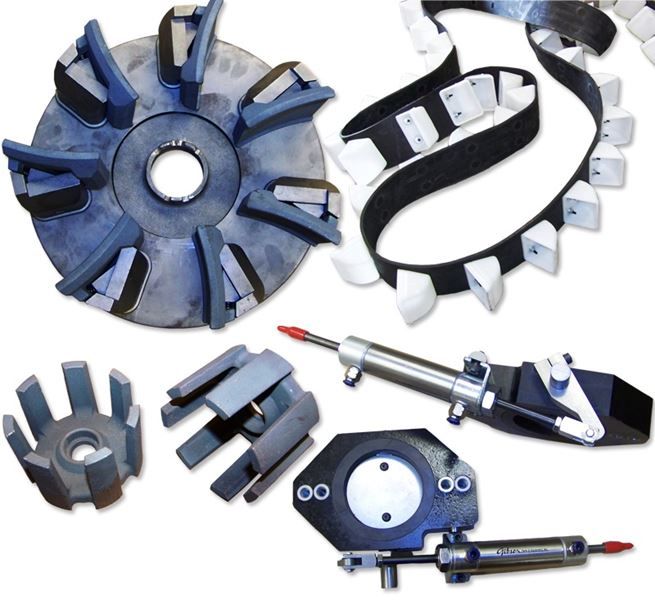 Most items are in stock and ready for shipment.