GIBSON 84XT STANDARD TABLE BLAST SYSTEM
A wealth of knowledge and experience in sales, service and manufacturing has contributed to the steady success of our company. Our product line is continually expanding to meet the needs and challenges of the marketplace. The quality of our equipment, coupled with competitive pricing, has captured the attention of the shot blast industry.
The Gibson Tables are designed to be maintenance friendly and easy to operate. Optional features such as cast alloy cabinet liners and automatic abrasive adder hopper are also available to customize the machine for your application.  Standard electrical panels are built with touch screen controls and Bussmann fuses, and electrics are provided in the panel for a dust collector, at no additional charge.
We provide a one-year no-hassle warranty, full technical support, and replacement parts that are readily available.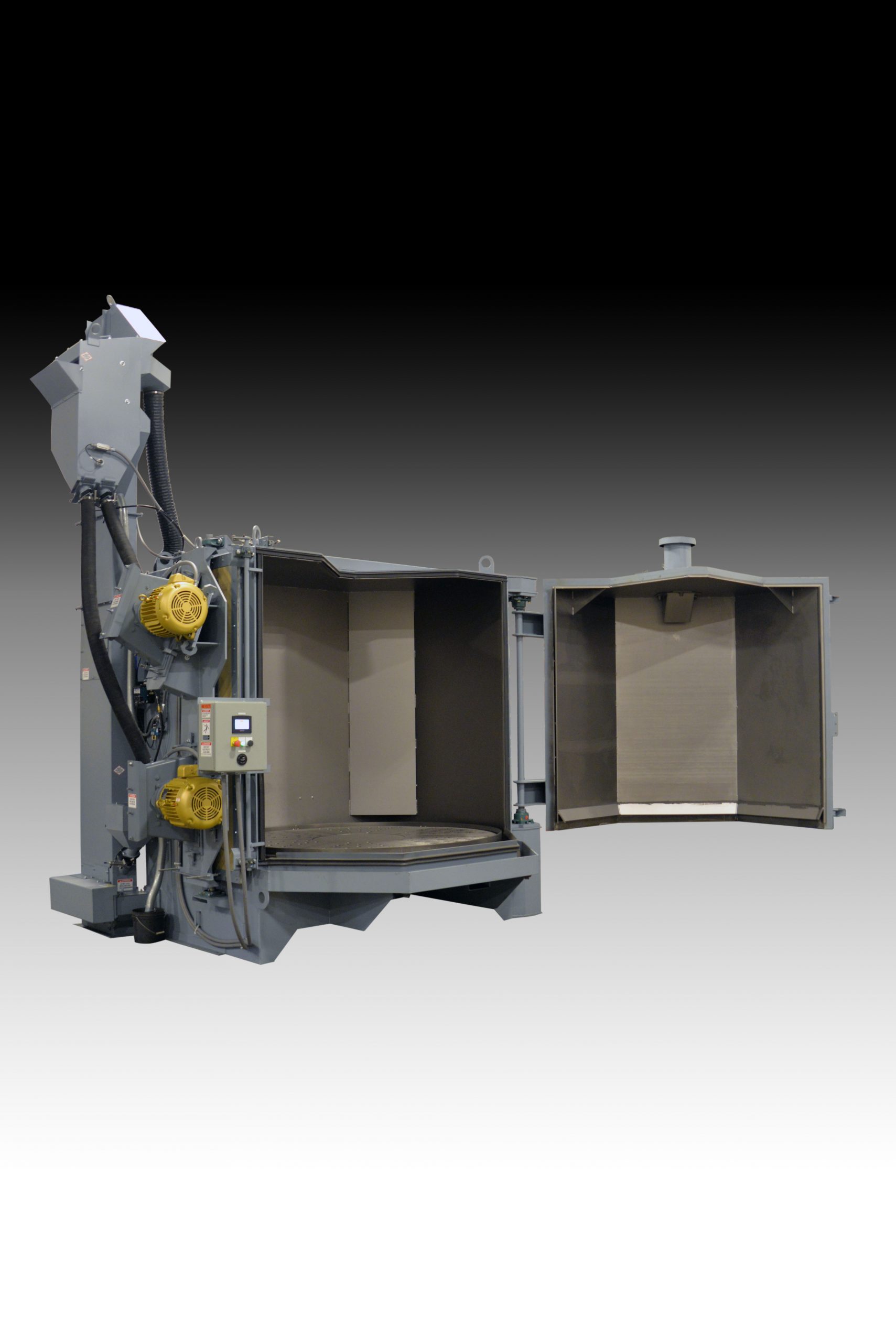 Standard Features:
(2) 15 Horsepower direct drive blast wheels.
Blast wheels mounted on an oscillating pod to decrease cycle time and increase coverage.
V-notched cabinet roof for ease of crane loading heavy parts or fixtures.
Abrasive low-level sensor.
Single lip air wash separator.
Cabinet fabricated from manganese and armor plate.
Color touch screen controls.
5-ton load capacity
Work loading height: 29.5"
Standard Options:
Variable frequency drive blast wheels
Automatic abrasive adder hopper
Rotary scalping screen
Complete or strategic cast lining
Additional table weight capacity
2-Year warranty through the purchase of a spare parts package
---
Gibson 84XT Blast Pattern Example:
"Our XT series of table blasters is difficult to beat, both in versatility and dependability—a true work horse.  Having the ability to blast larger parts or batches of small parts (with or without fixturing), one begins to see the clear advantages available with these blast systems."
Gibson 84XT Standard Table Blast System – Application Example
---
Blast Pot outside diameter has been cleaned with oxidation removed.
For more information regarding Gibson Abrasive Equipment's blast cleaning solutions check-out our website.