Why Suit Up?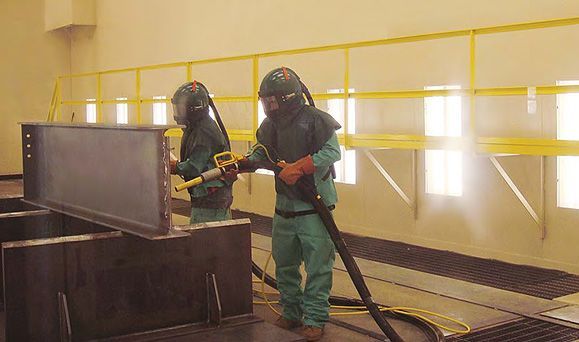 The versatility of a blast room is certainly hard to beat. In some applications the wide variety of parts makes it easy to justify a blast room from an economics standpoint. However, it's not uncommon to make a site visit and find that 80% of the products being blast could fit onto a small table. The use of a table could allow for a batch parts to be blasted in less than 10 minutes without the need to suit up!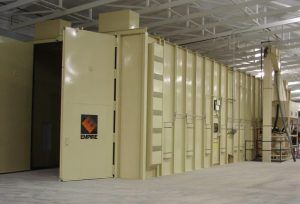 For those difficult parts to handle, its time to suit up. Empire has a wide arrange of pre-engineered rooms and custom field erected rooms to meet your application needs. With an Empire blast room, you can select from a range of proven components for media recovery and reclamation. Additionally, we offer a complete range of accessories and options designed to maximize productivity within different working environments.
Pre-Engineered Blast Booths (PEB)
Empire's Pre-Engineered Blast Booths (PEB) feature all the essentials for OSHA complaint blast rooms at a fraction of the cost. For many applications, requiring strict environmental and safety compliance, Empire's PEB booths offer an attractive alternative to makeshift enclosures or higher priced custom blast rooms.
After choosing your PEB size you can then choose from a list of standard booth options, dust collection systems, blast and recovery systems along with operator safety equipment. Because these systems are pre-engineered, they can ship in 6-8 weeks, almost half the time of a custom engineered system.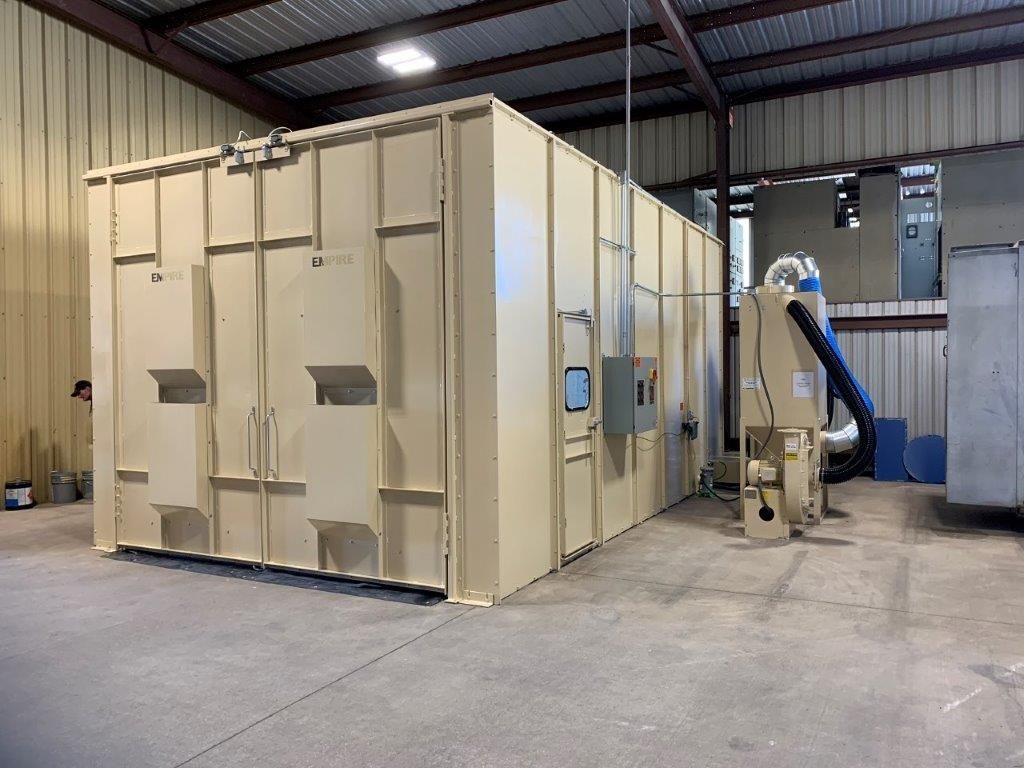 Field Erected Blast Room Systems
If one of our pre-engineered (PEB) or standard package blast rooms is just not right for you, we will custom engineer a field erected blasting facility to meet your unique production and dimensional requirements. With over 75 years' experience manufacturing blast systems, you can be assured Empire will provide a balanced system with no compatibility problems.
After your custom blasting facility is operational, you can count on Empire for everything that's needed to maintain your system at peak efficiency.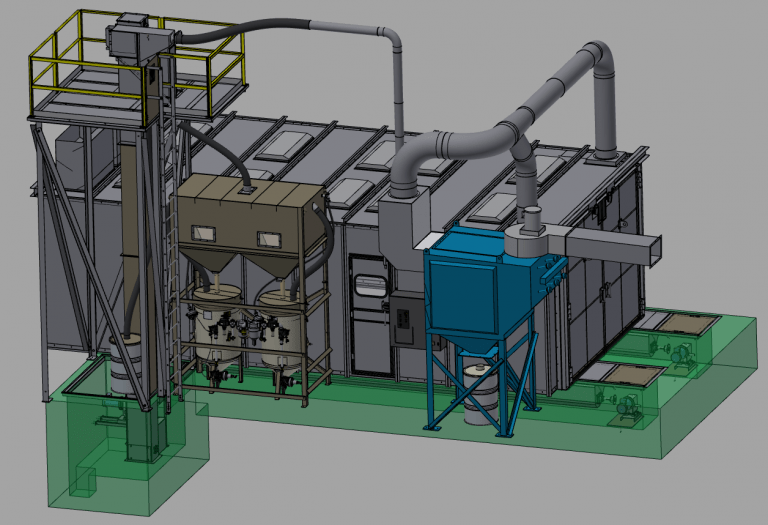 When you can it will prove to be lucrative to run parts in an automated table blast machine. This will get your operator out of a suit and improve, improve cleaning efficiency, and finish consistency.
What is a table blaster?
It's a blast cabinet with typically one or two blast wheels aimed at an odd shaped or heavy part that is laying on a round table. The table rotates like a microwave turntable typically in a CCW direction when standing on it looking down. The reclamation system recovers the media using a bucket elevator recovery system that are sometimes assisted by an auger or two. They have an air wash separator to remove the fines.
Gibson 48" Table: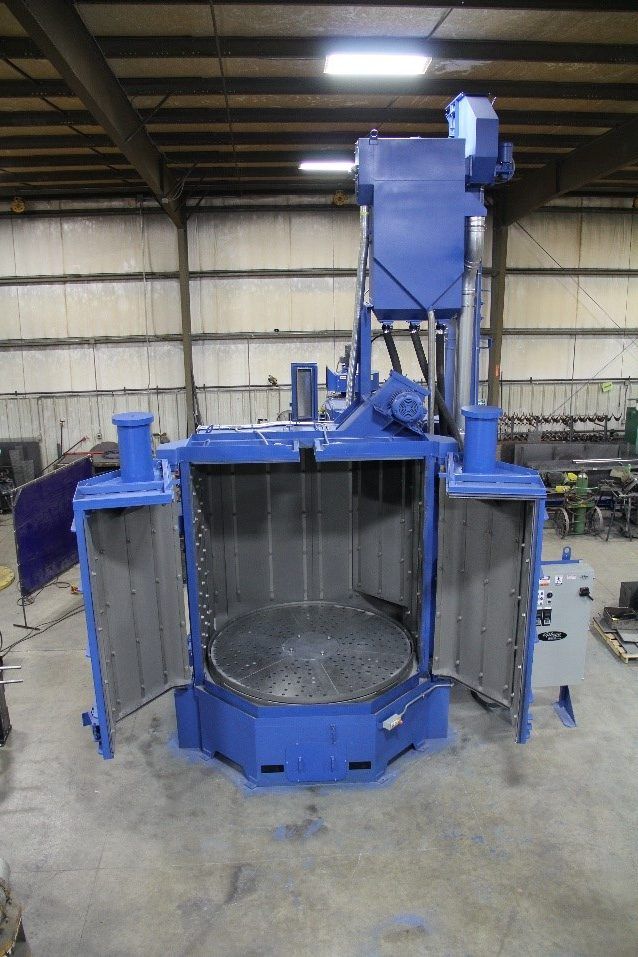 Specific Features:
Mostly used for odd shaped or heavy parts that can't easily be hung or tumbled.
It's typically a more economical solution where the parts could be hung but the customer can't use a spinner hanger. Typically, not for small parts.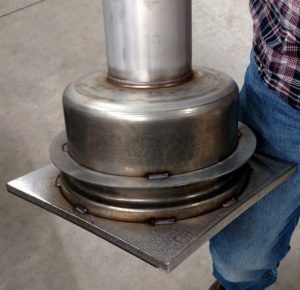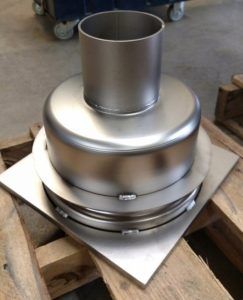 Stainless fabrications before & after blast.
Better for lower volume parts.
Somewhat indestructible compared to a rubber belt or spinner hanger (robust).
Typically used in the oil & gas industry.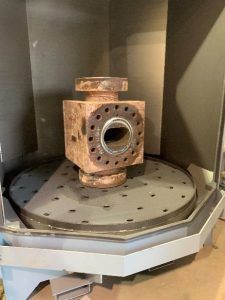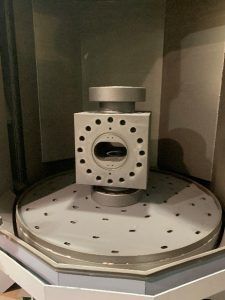 Table Blast Advantages:
Multipurpose – You can lay parts on the table or hang them on a fixture that is mounted on the table.
Allows for larger parts and smaller parts in the same machine.
Table Blast Disadvantages:
Some (not all) applications require you to move the parts during the cycle to ensure even coverage.
The parts may need to be flipping or rotated due to blinding.
Speed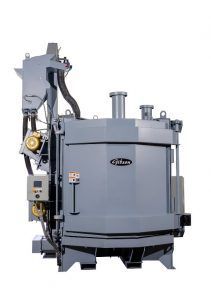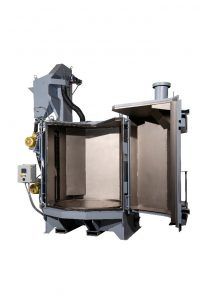 Gibson's widely popular XT series of tables has multiple oscillating blast wheels that allow for additional blast coverage angles, hitting the otherwise hard to reach pockets on parts.
Table Blast Don'ts:
Don't overload it on the edges with a heavy part. If you have a single heavy part, then place it on the center of the table.
Never allow parts to hang off passed the ring and close the door.
Never blast really light parts without capturing them somehow to prevent them from falling off the table.
Although a table blast system might not be a good fit for all of your products it could minimize the need for an operator to suit up on most days. The pairing of a Gibson table system and an Empire blast room is not uncommon for a wide range of parts. For more information or to see Empire & Gibson's full line of products please check out the websites listed below:
Empire Abrasive Equipment
https://www.empire-airblast.com/
Gibson Abrasive Equipment
https://www.gibson-equipment.com/