Gibson Abrasive Equipment had a solid year in 2017 with growth and changes to keep up with customer demand. The success continues for 2018 as many plans and programs are on-deck to keep the company advancing into the future.
2017 – A very good year
Gibson is known for high-quality equipment and advanced processing capabilities. This is only made possible by the employees that give their best every day to keep the company on pace for complete customer satisfaction. Gibson added several employees in the Engineering departments along with Assembly technicians and Fabrication Specialists.
The additional people provided the capacity and ability to continue the standardization of the equipment portfolio. As part of the program, the company was able to add a color touchscreen to all of the standard equipment. The attention to detail and customer focus carried throughout the entire company and resulted in meeting all the projected ship dates for the year. One of the bigger, more complex systems that was engineered and produced, was the Gibson Monorail Blast Cleaning System.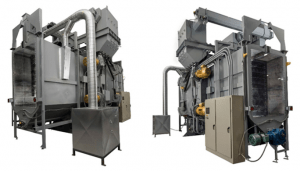 36×78 Inline Monorail System with (8) 50 horsepower blast wheels
Gibson monorail blast system is a fully automated blast system designed for 24hour production. Systems are typically used in applications blasting heavier parts at a high rate and blast fabrications at 20ft. per minute. Blast systems are easily integrated into the rest of the production flow such as paint lines.
To support the Gibson product line, the company successfully trained twenty-two new distributors from all over the United States. Additionally, the equipment testing lab was expanded and a "Request For Test" link was added to the company website.
Gibson Homepage with link to the Request For Test Link:
https://www.gibson-equipment.com/request-for-test/
Many parts were processed and tested during the year. Here is a small sample of some "Before and After" parts images: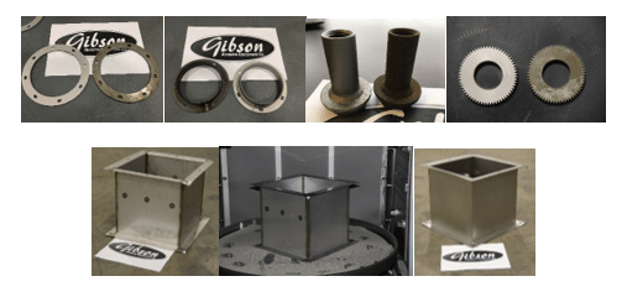 As you can see, 2017 was busy with many successes and exciting projects. Now, here is a preview of what 2018 will bring…
2018 – Expansion
The new year features a company milestone of twenty years in business! The company was founded in 1998 and was known as Gibson Parts & Equipment Inc. Gibson had a rather modest beginning, starting out in the living room of the founder's home in Westfield, Indiana supplying replacement parts for industrial wheel-blast machines.

Gibson's previous facility was 17,000 square feet with offices and production cells. The new building provides over 33,000 square feet including high ceilings for storage and shelving, shipping bays and overhead cranes to move large equipment throughout the building.
Now, twenty years later, the company continues to grow with a record of accomplishments and successes. Plans are in place to continue the expansion of the Engineering department and add additional Assembly and Fabrication cells to keep up with the pace of orders and ensure the signature Gibson quality is always maintained in every machine.